Fun Things Happening Locally
Oceanside is a North County coastal town that is home to numerous community events. It's located just north of Carlsbad and is known for its great weather, beautiful beaches, and fun attractions.
Here are some of Oceanside's most well-known annual events.
Note: Due to COVID-19, the dates and details of all events may be subject to change.
Farmers & Sunset Markets 
Happening on Oceanside's Main Street right by the water, their Farmers & Sunset Markets are a weekly town favorite. The Farmers Market features a variety of merchants who are there to share fresh local fruits and veggies, beautiful flowers, unique items, and more.
Around for over a decade, the Sunset Market happens later in the day after the Farmers Market on Thursdays and offers visitors different handmade gifts from all over the world, International food tents, and music.
Oceanside Harbor Days
Harbor Days is a two-day event that occurs each year, focused on sports and other activities in the sun. From surfing to other beach sports, kids' costume parties, fabulous food, arts and crafts, beer gardens, and music, you won't want to miss it.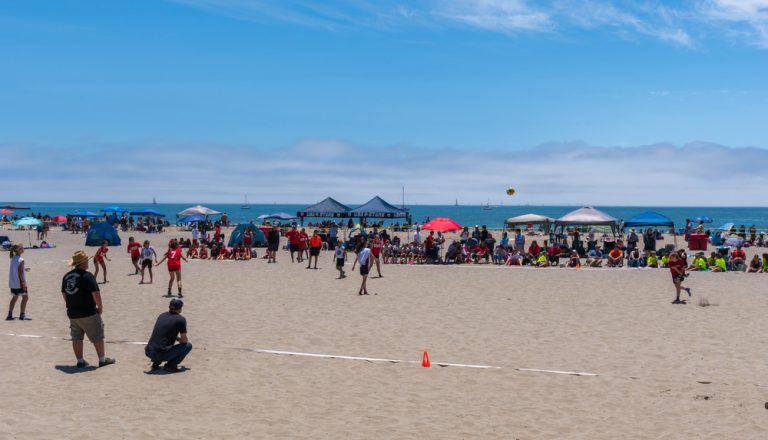 Beach Soccer Festival
If you love beach soccer, then I'm sure you know that Oceanside's Beach Soccer Festival is the biggest on the west coast! It's a yearly event that brings exceptional talent together. Additionally, the festival offers beach volleyball, surfing, and more fun competitions!
Days of Art
Oceanside has developed into a talented art district as new artists continue to arise in the community. Days of Art has been around for over 25 years and welcomes local art, food trucks, performances, and more to be displayed to the public. If you're searching for a new painting, sculpture, stained glass, ceramics, fine jewelry, or photography you'll be sure to find it from the talent in Oceanside.
What kind of beach events are held in Oceanside?
There are a ton of beach events that happen in Oceanside, mostly in the summertime! These popular occasions include Moonlight Paddle at the Harbor, Harbor Wine Cruises, Race Across America, The Yankee Doodle Dingy Parade, and more.