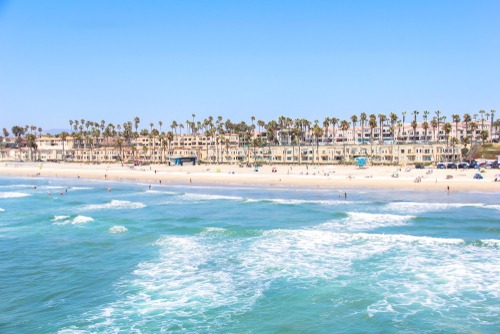 Dr. Henninger and our experienced dental team are proud to provide quality dental care to the Oceanside, CA community. Oceanside is a perfect vacation spot for beach seekers, known for its spectacular ocean views and beautiful weather year-round. As a vital part of the rapidly-growing San Diego County, Oceanside offers gorgeous scenery and fun activities for every member of the family.
Natural-Looking Dental Implants in Oceanside
At North County Cosmetic and Implant Dentistry, we specialize in customized dental implants that restore health and beauty to your smile. Whether you need to replace a single tooth or several teeth, Dr. Henninger can provide the right implant solution for you.
For patients missing a full arch of teeth, we can give you a new smile in just one appointment with Teeth in a Day. Using this method, Dr. Henninger can secure a full denture with just a few dental implants and deliver immediate results.
Things To Do In Oceanside
There are plenty of options for excitement and entertainment in Oceanside, from the infamous Oceanside Fishing Pier to the historic California Surf Museum. Learn about the multitude of attractions in Oceanside.
The History of Oceanside
Oceanside was first settled by Spanish missionaries over 250 years ago. Since then, it's grown into a bustling beach community with a population that continues to expand. Learn about the expansive history of Oceanside.
Frequently Asked Questions
How far is Oceanside from Vista?
Oceanside is about a 15-minute drive from Vista. If you're using public transportation, it typically takes about 25 minutes to get between the Oceanside and Vista Transit Centers.
How far is the Oceanside Pier from North County Cosmetic and Implant Dentistry?
Our practice is less than 8 miles away from Oceanside's most famous landmark, roughly a 15-minute drive. If you feel like stopping at the beach or watching the sunset after your dental appointment, our location is highly convenient.
What county is Oceanside in?
Oceanside is part of San Diego County, the second-most populous county in California and the fifth-most populous in the United States. As of 2019, the population had reached nearly 3.5 million residents and it continues to grow every year. The county is larger in area than the states of Rhode Island and Delaware combined at 4,526 square miles.
Are any celebrities from Oceanside?
Several celebrities grew up in Oceanside or currently live in the area. Most notably, actress Denise Richards graduated from Oceanside's El Camino High School and professional WWE wrestler Bill Goldberg owns a gym in the area called Extreme Power Gym.